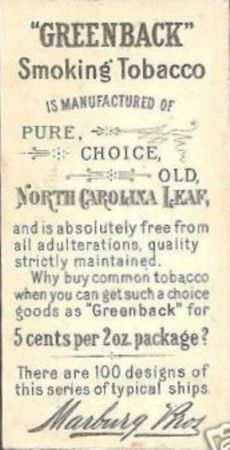 .....

Marburg Tobacco
Typical Ships
N408
Set of 50; shown below - 49

.....
Contributing
collectors
---------
Brian Bigelow
Bob Forbes
Jeff Forteza
Dave Levin
Alan R. Moon
John Moran
Jim Van Beckum
Below information received from Bob Forbes
This attractive color series of ships and other vessels from around the
world was issued in the late 1880s with Marburg's Greenback Smoking Tobacco.
Though the backs state that there were 100 designs, only 50 subjects have been reported.