visit the NS Chat Board
Moderator Tom Boblitt
autograp@gmail.com
Email
webpage comments
to Dan Calandriello
danster-nj@comcast.net
Leader Novelty - Superman - R146
48 card set - but highest known number is 36 - Contributors:
Richard Lapointe, Jim Abdulla, Don Hayes and Jon Moran
Premium Ring
Display box

Display box side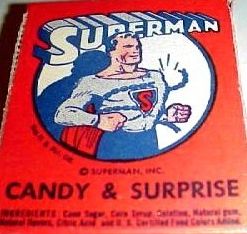 Box front
Box
Box side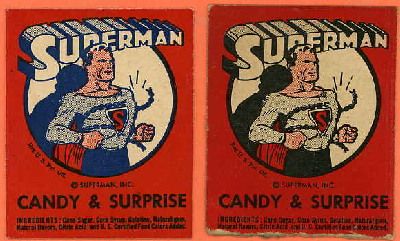 Coupon variations - (mailed in for prizes)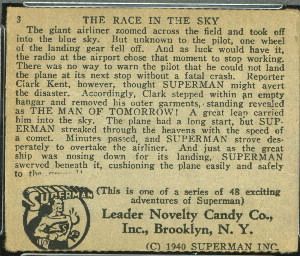 Back - variation one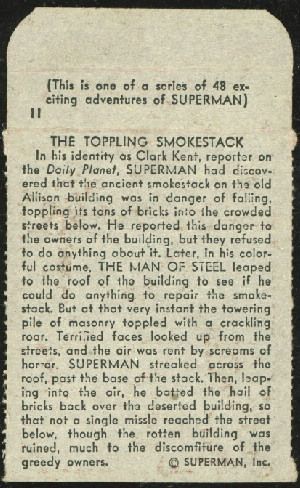 Back - variation two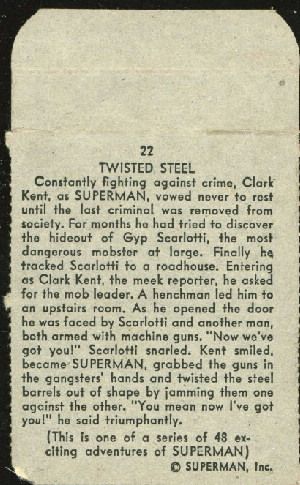 Back - variation three
R146 Superman Leader Novelty

Notes: American Card Catalog reference is R146.
Cards are approximately 2-3/8" x 2-7/8",
with rudimentary 3-color art
with titles outside candy boxes and story text inside.

"This is one of a series
of 48 exciting adventures of Superman"
hints that a further expansion had been planned.


01 Through the Flames
02 Smashing the Gangsters
03 The Race in the Sky
04 The Armored Car Holdup
05 A Lesson for Crooks
06 Fumes of Doom
07 Saving the Workmen
08 Breaking the Racket
09 Rescue of the Mayor
10 Human Tenpins
11 The Toppling Smokestack
12 Peril in the Air
13 The Bank Robbery
14 The Yellow Mask
15 The Bursting Bomb
16 The Trap
17 Millions in Gold
18 The Fight for Peace
19 The Shattered Press
20 Through Granite Walls
21 Snatched from Death
22 Twisted Steel
23 A Shot in the Night
24 Cracked Skulls
` 25 Fight in Mid-Air
26 Trapped in the Glacier
27 Trapped in the Air
28 Capture of the Kidnapers
29 The Averted Train Wreck
30 Roller Coaster Rescue
31 Superman at the Circus
32 Disaster at the Circus
33 Superman
34 Attacked by Sharks
35 The Runaway Ship
36 Mountain Tragedy