Micro/Nano Biomechanical Characterization Lab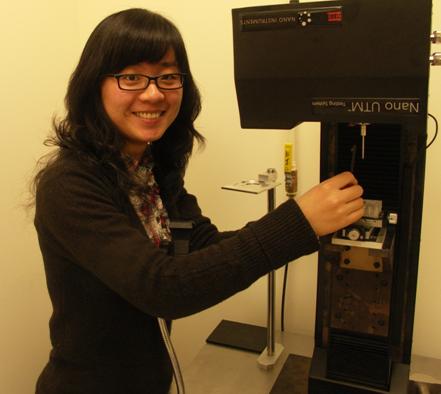 Jiayi Shi

PhD Candidate, Department of Mechanical Engineering

Email: shi.j @husky.neu.edu
Education
MS, Mechanical Engineering, 2008
Harbin Institute of Technology, China
BS, Mechanical Engineering,2006
Harbin Institute of Technology, China


---
Research Interests
Thin shell adhesion project: A finite element model is constructed to investigate the adhesion of thin shell structures to rigid and deformable substrate. A Dugdale-Barenblatt-Maugis (DBM) cohesive zone approximation is introduced to simulate the convoluted surface force potential. The nonlinear problem is solved numerically to generate the pressure distribution within the contact, the deformed membrane profiles, and the adhesion-delamination mechanics, which are distinctly different from the classical solid cylinder adhesion models. The model has wide applications in cell adhesion and nano-structures.
Contact lens project:
A universal testing machine with nano-Newton and submicron resolutions is used to measure mechanical properties of contact lens. An analytical model accounting for the large deformation is employed to fit the experimental curves. Consistency is found between modeling and experiments. The method is useful in characterizing soft polymer shells in general.
---